Alright, so you've watched or read some of Maid-Sama and are asking the question, do Misaki and Usui get together? It's the relationship we've all been rooting for since the beginning!
Maid-Sama has 26 episodes and one OVA, titled It's an Omake. None of them definitely answer whether the pair ends up a couple.
But where the anime fails us, the manga delivers!
Do Misaki and Usui end up together, married, or have children in Maid-Sama?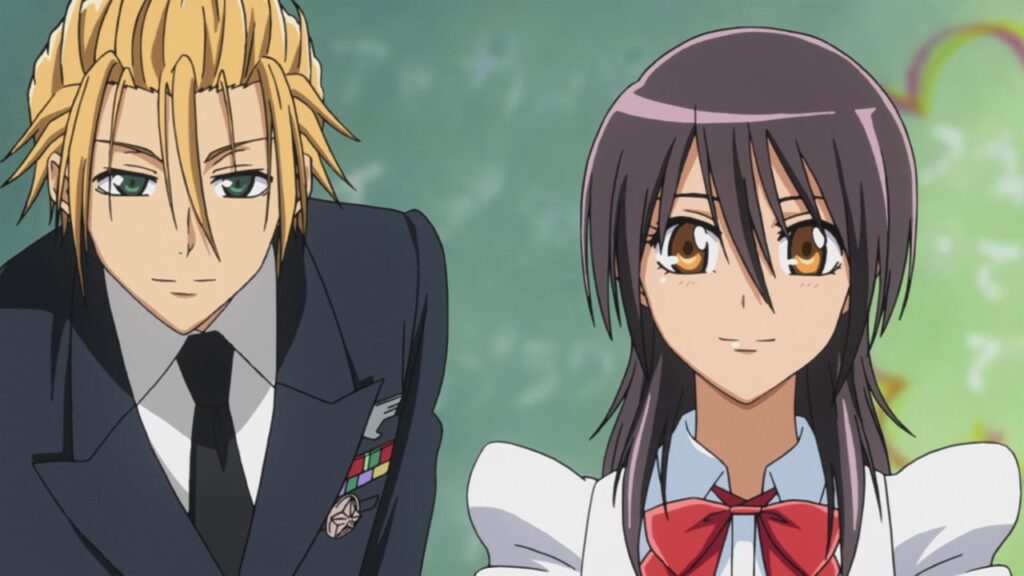 Misaki and Usui end up together in the manga! They are engaged to be married as of Chapter 81.
After their engagement, there is a major 10-year time jump in Chapter 85. Misaki ends up becoming a diplomat (go figure!), and Usui a charming doctor. At this point in the manga, they are both happily married (to each other).
So cheer, and clap away! This ship is signed, sealed, and delivered. As for kids, the manga never answered the question. So, you'll have to leave that to your imagination.
Read More: Where Does Maid-Sama Anime End in the Manga?
How Does Maid-Sama End?
Chapter 85 is the final chapter of Kaichou wa Maid-Sama.
In the chapter, it's graduation day! Everyone from Maid Latte shows sup to congratulate Misaki. It's a teary goodbye between characters. Their school lives are ending, and a new one begins.
The manga immediately time jumps 10-years from here. Trading a graduation stage for a church.
Inside the church a wedding is about to begin. It's for Misaki and Usui. Misaki arrives late and rushes to prepare. The ceremony proceeds, the bride and groom kiss, the Misaki fan club nosebleeds. It's a wonderful event.
In the end, Usui tells Misaki she is now a Usui.
Read More: When is Maid-Sama Season 2 Coming Out?